Life Without a Script
Multishow
When director Guilherme Zattar promoted a complete renovation in the broadcast programming of Multishow in 2008, the channel changed and the positioning of the brand had to keep up with this transformation. In order to reposition the channel and renew its connection with young audiences, we created the manifesto "Life without a script" and a new visual language for the campaigns, ads and pieces of communication of Multishow.

The manifesto was a declaration of freedom, language and positioning, which celebrated the 19 years of Multishow and represented the new format of reality shows that recorded the daily life of an eclectic group of young people, addressing a wide range of subjects and experiences.

From that point on, we created a new visual identity with film-developed photos – taken with analog cameras –, sceneries, handmade pieces and collages, printed campaigns and a video teaser to communicate the motto "Life without a script".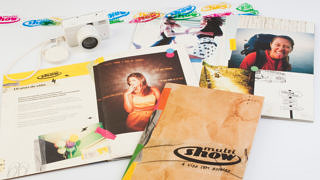 Since then, it's been almost ten years, and we've gone through two more projects to reposition the canal. We've created and produced hundreds of TV shows and thousands of pieces, campaigns, photos, ads, posts, parties, sceneries and promotional gifts. All this to help communicate who Multishow is, a channel that is a true walking metamorphosis.