M.C. Telão
Nike
In 2013, Nike Festival dos Esportes ("Sports Festival") took 25 thousand people to the Aterro do Flamengo in Rio to celebrate the launch of the Brazilian National Football Team's Jearsey. It was a full day of open-air sports and music to suit all tastes, with shows by Thiaguinho, Emicida, Marcelo D2, Anitta, Naldo and Ivete Sangalo. The party was commanded by M.C. Telão ("M.C. Big Screen"), our creation in partnership with SRCom and Sonido.

The main challenge was to conduct the show, which lasted for over 4 hours, in a fun and light-hearted manner, imprinting Nike's identity.  The solution was to bring a giant LED screen to life, thus creating M.C. Telão, an unusual and fun master of ceremonies, which the public and artists adored. By presenting videos and artists, our M.C. managed to keep the public tuned in and excited right through until the end of the party when the uniform to be used by the Brazilian National Football Team during the 2014 World Cup was revealed.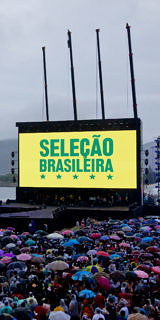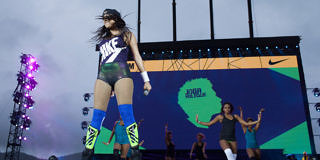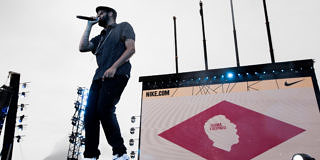 The worked involved all of the different departments within Sal, bringing together a true "creative dream team". From initial conception, which included Flavio Machado's participation (VP at SRCom) through to screenwriting, a creative partnership with our director Marcelus Viana and advertising agent Jader Rossetto, through to designing the minimalist stage, a creation with renowned choreographer Abel Gomes, to video editing and animation created by the duo Juarez Escosteguy and Adriano D'Aguiar, right through until the mixing stage and soundtrack orchestrated by musical director Lucas Duque and his team from Sonido.