Tech with attitude changes the world
Afterverse
Afterverse is a video game brand born with a global presence. The success of the PK XD game, which reached 10 million monthly users in many countries just as it launched, boosted the development of this games studio from Grupo Movile. Our challenge was to create a brand strategy, with clear and practical guidelines to lead business growth.

We started by revealing the brand's purpose: to break social, geographic and cultural barriers through video games. Next, we structured the company values as small manifestos, in order to facilitate mapping and selecting qualified professionals who identified with a brand proposing such a big challenge.

Then, we revealed the desired attributes, which are qualities for which the brand wants to be perceived, and mapped its communication ecosystem, which is the set of all audiences with whom it relates, so as to structure the many expressions of the brand.

From that concept, we created the visual and verbal languages of Afterverse, with the creative concept that "tech with attitude changes the world".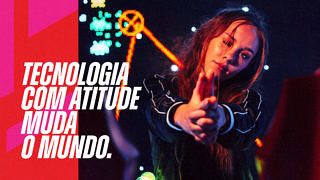 The first challenge was naming. Afterverse refers to the multiple universes the brand aims to create. Keeping an eye out for multiple players, the new studio wanted to develop creative social games that were fun and inclusive, to broaden their portfolio.

The brand also wants to express its boldness, which manifests in the intersection of courage and innovation. Afterverse was born restless, always wanting to create, deliver, and present newness.

Creating a brand is a unique moment to an organization and, in this process, being able to count on Grupo Sal's strategic consultantship was essential to polish the creative process, to translate the multiple points of view and to consolidate the path to sustainable and exponential growth.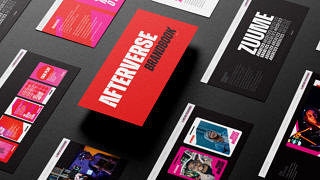 The combination of red and bright pink brings strength and uniqueness to the brand color palette, contrasting with the black and white base. The shades of gray bring the practicality and multiplicity present in the essence of the brand.

Our color palette has to work in the digital universe:

to have contrast, to provoke, to stand out.
In order to simulate the 3D language of the gamer universe and to add depth to two dimensional images, we worked with an isometric grid and a 30 degree angle, also used in the logo development, as the foundation for all communication pieces.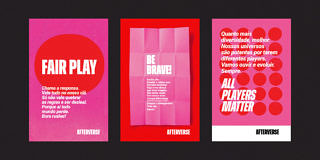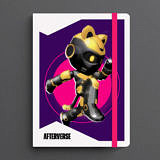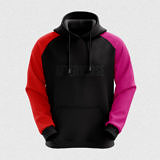 With the identity and language structured, Afterverse is consolidated as a Brazilian games studio with global impact. Currently, the company boasts 50 million monthly players in 185 countries.

Together with iFood, MovilePay, Zoop and Mensajeros Urbanos, the company joins the ranks of Grupo Movile, which received US$ 200 million in investments in the second half of 2021 (around R$ 1 billion converted) from Dutch company Prosus, one of the biggest tech investors in the world.

For their next steps, Afterverse wants to broaden their international presence, catalyzing their business growth and the experiences they offer to the many publics around the world.